MY LIFE MATTERS TOO!!
$

10.00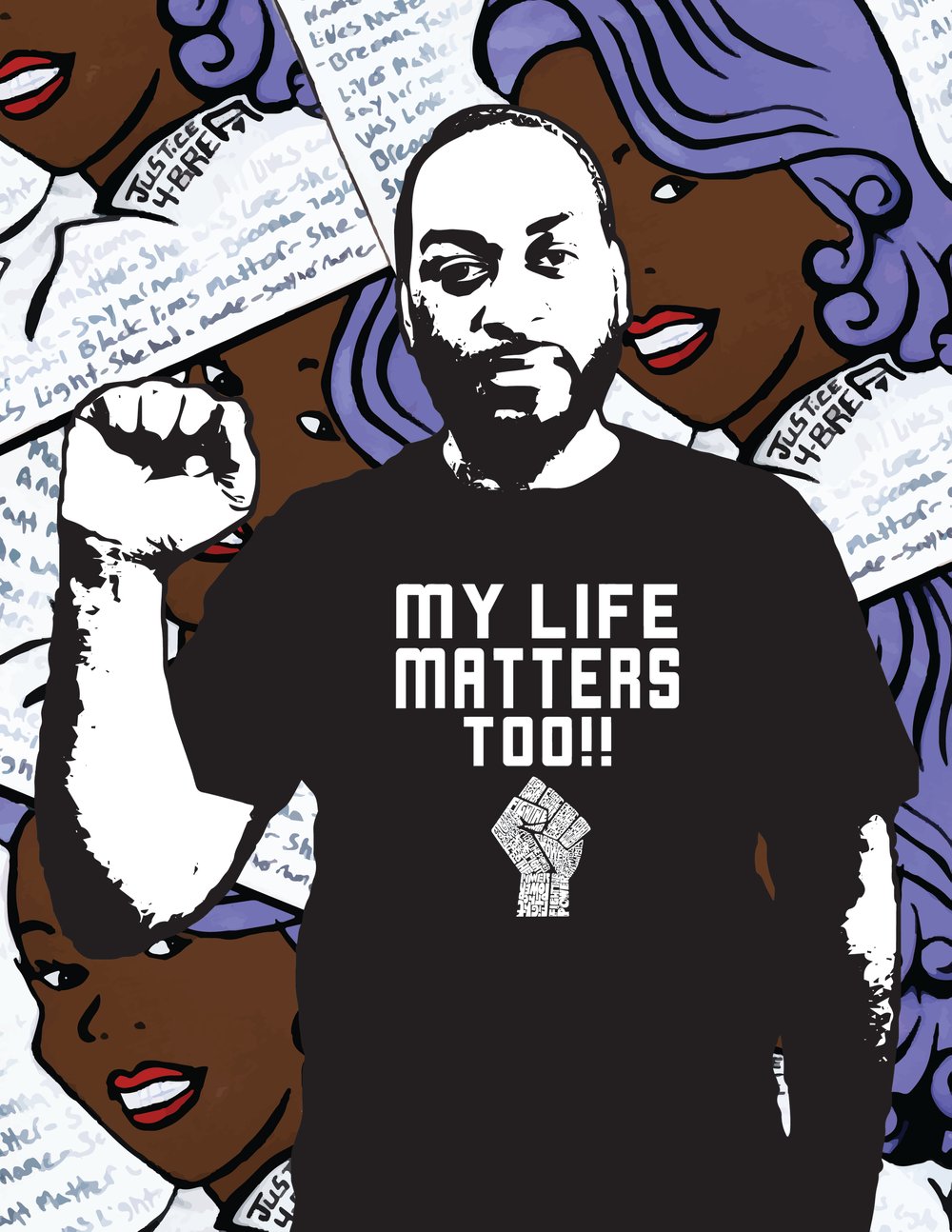 MY LIFE MATTERS TOO!!
(DIGITAL ART)
As an art collaboration with a close friend of mine BenYamin Zimmerman. For living in Kentucky and seeing the major injustices unfold with the murder of Breonna Taylor. Both of us being born in Kentucky this hurt us immensely, seeing family hurting, our Kentucky family. So we both wanted to be more vocal about injustice then we ever had before. While trying to find our voice and proper way to contribute to our fellow Kentuckians suffering from racism and injustice. Being more and more so baffled to see the lack of action in city officials, by not even wanting to mention the words "racism" or "I cant breathe". Along came Charles Booker... A voice of truth... a voice from a politician who was actually from Kentucky and knows our Kentucky struggles first hand. Who was finally voicing out against the racism and murder of Breonna Taylor, George Floyd and Ahmaud Arbery. A person running for office who wasn't afraid to say her name, to call out racism. To be the voice our Kentucky homes have needed for far to long. So with all that said....
This digital art piece is our collaboration from the painting in the background to the phrasing. Using Bookers own words "My Life Matters Too!!" from a legislative session after the murder of Ahmaud Arbery
We will be selling this Digital art piece and doing HTV T-Shirts using the phrasing. Each shirt will be made to order, which means as soon as you put in your order we make that shirt. No stock products here, so please bare with us we're just two dudes making shirts for a cause. With the digital art pieces all of your proceeds after taxes of course will go to Bookers campaign fund at bookerforkentucky.com/
The T Shirts proceeds after shipping costs and material costs will all go to the same fund. It is time we Stand Up for one another not only in Kentucky but the nation.
DIGITAL ART PIECE & T-SHIRT DISCLAIMER.
DIGITAL ART: ( 8.5"x11" JPG/Digital File)
This is only available for digital download. Which means when you purchase this via PayPal (sorry that's the only accepted payment method at this time). When you pay Via Paypal make sure to leave your email so I can then send you the digital file/invoice/receipt.
T-SHIRTS:
All shirts are high quality shirts. That are hand pressed on HTV. Super soft HTV and quality shirts. Again only payment method is Paypal. Upon your order leave an email as well and you will be sent an invoice/receipt that your order is being made, for it all is made to order just for you. So again please give it time if we don't immediately get back with you. With the times that are going on we are also to make this product with love, caution and care. Aside from shipping costs, and material all proceeds will go to the Booker 4 Kentucky campaign fund.
Love you all
RCD & BenYamin
Share